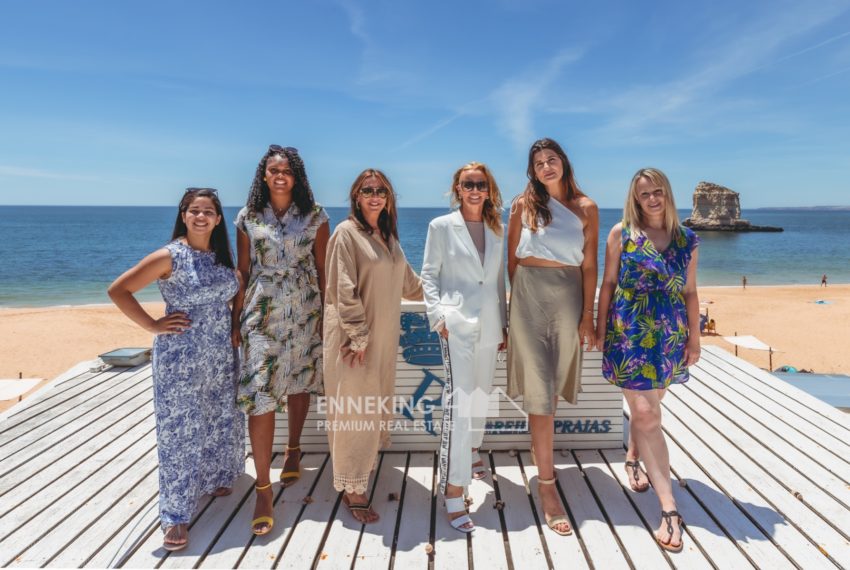 Enneking Premium Real Estate's Dream Team
Doing business with Enneking Premium Real Estate means that you will be assisted in all areas. And this is only possible if a top team goes to work for you as an investor or buyer. Over the years, the team has become even closer and even better in the overall picture.
The Enneking team consists of various experts in their field and the total makes this dream team. And the best part is; the team consists of only ladies. An international group because our clients, the investor and the buyer, are also from various nationalities.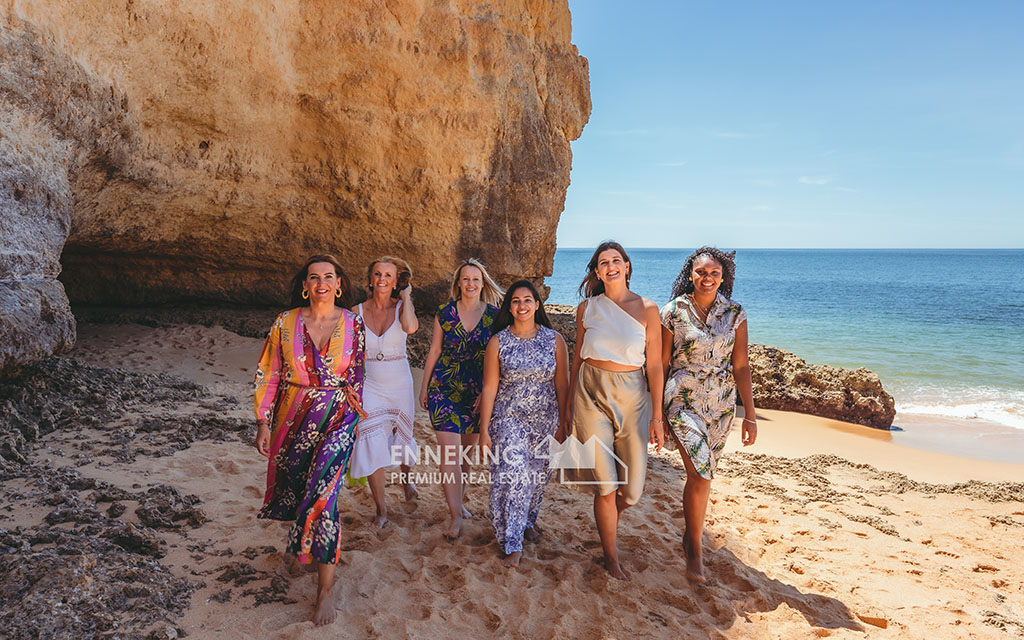 Curious who you will deal with when you contact us? We would like to introduce ourselves to you.
Petronella Enneking, director of Enneking Premium Real Estate. She has lived in Portugal since 2000 and has been working in the Portuguese real estate sector since 2003. She completed her real estate training at INCI (Instituto da Construção e do Imobiliário) and has been a certified real estate agent in Portugal since 2007. Petronella Enneking has more than 15 years of experience in the real estate sector and rental management and can look back on a long history of successful real estate marketing.
Petronella is very creative and comes from an artistic family. She has 2 children, now adults. Her hobbies are painting while listening to opera and she likes to cycle and capture the beauty of the Algarve with her camera. Why the Algarve? "I sold my business in the Netherlands and went on holiday, we drove to Spain, but after seeing the Portugal sign we decided to explore this country. I immediately fell in love with this country and never left after that." What kept you in Portugal? "The quality of life, the food, the beaches and the sun".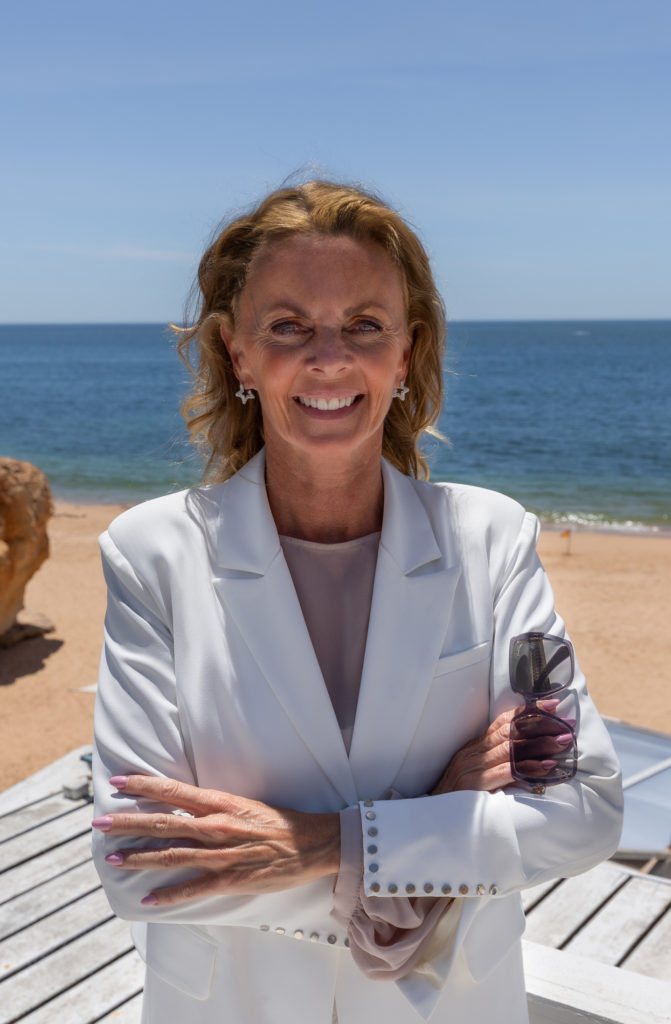 Laura Taylor, Sales. Laura is originally from the north-east of England and settled in Portimão, Algarve, in 2011. Laura gets the most pleasure from helping clients to find their ideal property here in the Algarve and of course in a professional and friendly way.
"I settled in Portugal to build a family life and I stayed here because I think it's a beautiful, friendly and safe environmentfor my daughter to grow up in. The quality of life here is great compared to the UK and we love going to the local coffee shop or restaurant in the sun". Laura loves chocolate and has food and dancing as hobbies.
Jéssica Encarnaçao, administrative assistant. Jéssica was born and raised in Algarve. She supports the team in handling the daily routine and advanced tasks. Organizing files, creating correspondence, preparing reports and documents, managing calendars to schedule appointments, sorting mail, drafting invoices, and providing general staff support are one of her main specialties. This Algarvian lady is the one you get on the phone first when you contact us and greet you first when you visit us.
Jessica loves quiet places with nice weather and beaches and therefore she never left the Algarve, although she had many opportunities to move. She has a strong and warm bond with her large family. Her hobbies are baking and basketball and she loves TV shows and books about serial killers. On weekends she likes to go to the beach with her son and likes to eat caramel/nut ice cream. She loves food and her favorite cuisine is Cape Verdean and her favorite dish from Cape Verde is Cachupa.
Mandy Pieterse, Sales. She lives part-time in the Netherlands and part-time in Lagos, where she can balance the beachy relaxing life in Portugal with the exciting city life in the Netherlands. She loves Portugal, the sun, spending time with her friends, eating delicious food with a good glass of wine and just celebrating the good life. At Enneking Premium Real Estate, Mandy is responsible for carrying out the viewings and maintaining contacts with, among others, the Dutch and Belgian customers.
"I am 54 years young and mother of 2 daughters: Joy, she is 24 years old and Lola of 20. I live partly in Lagos and partly in the Netherlands. We first came to Portugal 11 years ago and immediately fell in love with the Algarve. I love socializing with friends and family and I like to cook. Especially foreign cuisine, Moroccan, Indian, Portuguese/Brazilian, Thai, Vietnamese, Italian etc. When we are in the Netherlands and the weather is nice, my husband and I like to go out with friends to sail with our boat. I love fashion and I like to advise people with their clothing style. Of course, in a few years we hope to be able to settle permanently in the Algarve, the people, the lifestyle, the weather, the tasty food and the delicious wines we love. No stress in the Algarve".
Sara Dias, content creator. Sara studied International Relations in Porto and is responsible for creating social media content at Enneking Premium Real Estate. She creates both on- and offline content that responds to the interests of our customers. Our Content Creator has several tasks, including writing articles for the company's web pages, videos, and social media posts.
Sara is a very adventurous woman. At the age of 25, she lived in many different places where she had the opportunity to learn new languages, travel, meet different people and have a different perspective on what younger Sara would want for her life and that would change.
"I love traveling, chasing sunsets and reading a good book on the beach with the waves sounding in the background. Take road trips, get lost and find new, beautiful places. I love sports like paddling and basketball. Recently I got a new hobby that I am obsessed with: painting. Animals and food make me very happy. I have an obsession with cheese, rissois and Thai food. But Portuguese, Mexican, Japanese and Italian cuisine also have a special place in my heart".
"I moved to Portimão after living in Berlin for 1.5 years because I needed some balance in my life and to plan my future in the Algarve seemed like a very good start. Apart from the great weather, food and beaches, there was a great business potential to be discovered. At the beginning of May 2021 I started at Enneking Premium Real Estate and this was the cereja no top do bolo(the icing on the cake). The team consists of experienced, young and open minded women who are ready to learn more and inspire other women to conquer the real estate market. I learn more every day."
Letícia Veríssimo, accounting. Letícia is Ennekings Premium Real Estate most valued person because she manages all financial transactions. Her love of grades and order made her decide to study management at the University of Algarve and we are very grateful to her for making that decision because she is indispensable.
"I like to live in the Algarve because it is a safe place, with good temperatures all year round and there is everything! We have managed to have the best of both worlds as we have a quiet and peaceful winter and a busy summer with different forms of leisure. I work at Enneking Premium Real Estate because we provide best and most professional service to our customers through our experience of acquiring a dream home in the Algarve or just enjoying the best holiday in sunny Algarve".
Team building
In addition to the nice work atmosphere in the office, we can also enjoy the beautiful sunny environment in which we are allowed to work every day. We regularly meet for a nice lunch on the several terraces in Algarve so that we also stay informed about what is going on in each of our personal lives.
The Enneking Dream Team works with great pleasure and energy for you as an investor or as a buyer. You will feel the difference when you visit us at our nice designed office in Ferragudo. +